New Zealand's Para-Badminton star, Corrie Robinson, has qualified for this month's TOTAL BWF Para-Badminton World Championships in Basel, Switzerland.
The avid shuttler is the region's reigning Para-Badminton Champion in the Men's Singles, Doubles and Mixed Doubles from last year's VICTOR Oceania Para-Badminton Championships.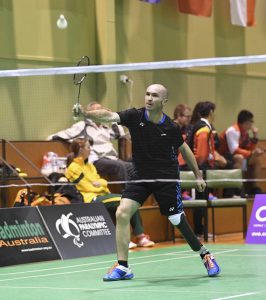 Having taken on some of this year's top Para-Badminton tournaments in the lead up to the World Championships, Robinson is used to the pressure of sport given his impressive professional career as a nurse.
"I love working as a nurse, it's a job which keeps me inspires and motivates me to keep on top of my own health and goals", says Corrie Robinson.
Previously, Corrie has competed in other sports such as Para-Sprinting, Rugby and Cricket, but it was badminton that really caught his eye.
"I have played for many years, even amongst the able-bodied players in my local region. I was always treated as another rep player and I feel so lucky to be part of this game.
"I love how the sport has molded and adapted to my abilities", says Corrie.
Robinson is another player who funds a large portion of their competing career through full-time work, and it is obvious how valuable his experience is to badminton when it comes to transferable skills.
For any professional athlete, it takes huge effort and dedication to learn, improve and constantly staying on top of your game – just like a nursing career.
"I am always focused and turning up on time. I stick to a schedule of waking up before work at 5.30am to train and then hit with another passionate player three times a week", says Corrie.
Competing in the standing lower 4 (SL4) category, the lower leg amputee also underwent surgery when he was 23, receiving a kidney transplant where his mum was the donor.
Robinson doesn't rule out the opportunity of competing in a future Transplant Games, but he will continue his impressive work educating other nurses and inspiring other players as he competes in the TOTAL BWF Para-Badminton World Championships this month.
You can follow the player's progress on Tournament Software.