Australian Paralympic Committee Press Release
Shortly after badminton was officially included on the program for the Tokyo 2020 Paralympics, Grant Manzoney had a heart-to-heart chat with National Para-badminton coach Ian Bridge.
"Ian was running the group I was playing in at the time, it was before he became national coach, but he saw I had some potential and told me about the journey I could go on," Manzoney said.
"Ian said there was a chance of playing at the Paralympics and I thought, 'That'd be nice'. But it was always just a pipe dream, really."
It's not anymore. In an online ceremony on Wednesday, Manzoney and fellow West Australian Caitlin Dransfield were inducted into the Australian Paralympic Team for Tokyo 2020, where they will become Australia's first Paralympic badminton representatives.
"It's amazing. It's still sinking in," Manzoney said. "It's great just getting to the Paralympics but, to be the first two athletes to represent Australia in badminton, the first time the sport's been included, I'm still tingling.
"There's been a lot of hard work go into it, a lot of blood, sweat and tears, lots of ups and downs and times when you think you're stagnating, but then you turn a corner and get going again.
"Those experiences have allowed me to grow in the sport but also as a person. It's allowed me to personally flourish, which I really appreciate."
Manzoney will play in the WH2 classification and Dransfield the SL4 and, though one competes in a wheelchair classification and the other competes standing, they've built a strong bond and created a positive team atmosphere.
"We started playing about the same time," Manzoney said. "We started training together and then decided to go on this journey together, to help each other and support each other along the way. We still train together, we have the same coach here in WA, so it's been awesome to have someone to share the journey with.
"The way I see it, badminton's in its infancy in Australia. But I do a bit of coaching as well and I really want to help others move forward.
"Also, being a bit older, I want to show people who may be in their 30s or 40s that it's not too late. If you work really hard anything's possible. I hope I can inspire people to see that if they work hard they can achieve special things."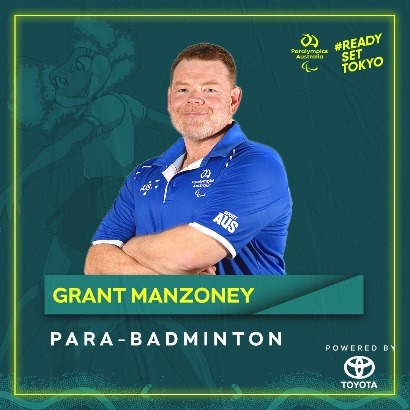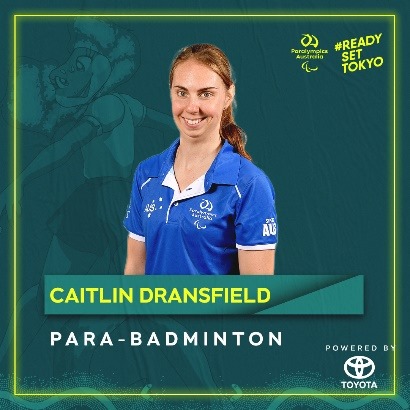 Join AUS Squad and stay up-to-date with the latest news from the Australian Paralympic Team as they get set for Tokyo.
Australian Team Chef de Mission Kate McLoughlin said the pair were ideal representatives for Australian badminton.
"Grant and Caitlin have done such an amazing job to earn the honour of being our first Para-badminton players at the Games," McLoughlin said. "It's something they can cherish for the rest of their lives.
"Their task now is to produce their very best performances and announce that Australian badminton is here to stay. I look forward to doing everything possible to help them enjoy the experience and realise their potential at the Games."
Paralympics Australia Chief Executive Lynne Anderson said: "What a wonderful story. A pair of athletes who got into badminton, found they had a true passion for the sport and now have this amazing opportunity to wear the green and gold and give it everything they've got.
"Congratulations to Badminton Australia and to Caitlin and Grant. We know you'll be great ambassadors for our country and for badminton. I can't wait to see you in action at the Yoyogi National Stadium next month."
Manzoney added his appreciation.
"If it wasn't for Ian Bridge I wouldn't be here. He took me under his wing and made it all possible. Also, my coach Mark Cunningham over here, has brought my game to a whole new level. I feel ready and confident because of the work I've done with Mark.
"Thank you also to Badminton WA, Badminton Australia and Paralympics Australia. These organisations have been really great right throughout."
Get the latest news and developments from Badminton Oceania delivered straight to your inbox by subscribing to our eNewsletter: