Pictured: Hsuan-Yu Wendy Chen. Photo credit: Australian Olympic Committee
The reigning and six-time Oceania women's singles champion, Wendy Chen, is embarking on an adventure to compete in her second Olympic Games – having previously played in the Rio 2016 Olympic Games.
The two-time Olympian will be hoping to go one better than Rio, where she finished last in Group H. Introduced in London 2012, the group stages give the players more games before the knockout rounds begin. In the men's and women's singles disciplines, player typically need to win their group in order to progress. In Rio, she narrowly lost out to Thailand's Porntip Buranapraserysuk and Kate Foo Kune, from Mauritius.
In Tokyo, Wendy will take on the challenge from Mia Blichfeldt (Denmark) and Linda Zetchiri (Bulgaria).
Talking about her previous Olympic campaign and her Road To Tokyo, listen to what Wendy had to say in our Q+A:
What does your badminton journey look like – right from being a junior player, through to a two-time Olympian?
Ever since I was a teenager I loved playing. I always wanted to play the Olympics, it was my goal and it feels surreal to have made it. As a junior, any time there was a questionnaire to ask me what's my goal, I would write down to represent Australia at the Olympics. It wasn't really until 2014 or 2015 that I knew I really had the chance to go, so that was a very exciting time.
The first time round I guess I was just so excited to make it to Rio, whereas this time round it's a bit different. I'm more looking forward to it as a learning opportunity, I'm more prepared and I have the experience this time around. I know what to look for and I'm ready for it.
Was there a breakthrough moment for you?
It's hard to think back pre-COVID as the whole world has just stopped and life seems to have changed so much. However, I remember all of the travelling in 2015 in my attempt to qualify for Rio 2016. It was really tough and I got a phone call from the Australian Olympic Committee to tell me I was going. I'm not usually a very emotional person but I was so happy I felt like crying. Being able to represent is just such a huge honour.
What did the steps look like between getting your place confirmed and attending the Games?
Well in Rio it was a bit different I guess. In Tokyo, we won't get our kit until we arrive in Tokyo as there are so many barriers in place now. It's funny because I actually had my fitting a year and a half ago so hopefully my body hasn't changed too much.
Can you reflect on your performances in Rio?
It was a very overwhelming experience for me. The Brazilian audience are incredibly passionate and were very enthusiastic, particularly when there was a home player on the court next to me. I couldn't even hear the umpire or the shuttlecock at times. However, it was obviously a great learning experience.
How have you adapted from your past Olympic experience to prepare for Tokyo?
I know what to expect more, but I guess it will be different because the audience either will not be able to cheer or they won't even be there?
What was your favourtie thing about the Rio 2016 Games?
I loved being able to watch the other sports while I was there. I went to watch the sprinting and the football and just in general, being able to see all the different athletes from all around the world was amazing.
Who are your favourite athletes?
I think they're all pretty awesome – just being able to see how we are all just so passionate and always willing to put up that fighting spirit to live up to the Olympic dream.
I remember watching Carolina Marin play in Rio. I remember her being very feisty, shall we say, but I really admire her fighting spirit and competitiveness. She is always so willing to commit to win every single point.
What are you most looking forward to in Tokyo?
I've been working with a new coach over the last year, so I'm excited to see what I have learnt and how that will translate to my results in Tokyo.
What do the last few weeks look like in the lead up to Tokyo?
Once the three month to go mark hit, the calendar just gets crazy. We have a hectic training schedule. It was a huge process but it was great to get the whole team together and working with the national coach. We were very lucky to have a training camp in Canberra in this 'lockdown era'. These opportunities help to bring the team closer together and motivate us.
How does an 'Olympic training camp' compare to any other training camp?
So our recent camps have been designed for all the players so they have been heavily based around brining the national team together and training as a team. However, we do have a camp coming up in the Gold Coast where we'll get more match practise and chances to focus on particular, specialised areas as we get closer to Games time.
What are you focusing on the most on these last 100 days?
I guess the mental hit of 'oh, this is actually happening' is quite a wake up call. I guess I just need to stay focused and keep training. It was great to have the opportunity to play in the men's singles event at the North Harbour Open 2021 in New Zealand too, as this provided some strong competition which I haven't been able to access for the last year and a half due to the global pandemic.
What did your support network have to say about your qualifying for Tokyo 2020?
My friends and family were very excited that I'm getting to represent Australia again. Unfortunately none of them can come to watch live, so they will be watching online.
Women's Singles Group Stage Draws
Hsuan-Yu Wendy Chen has been drawn into Group I, against the thirteenth seed from Denmark, Mia Blichfeldt and Linda Zetchiri from Bulgaria.
Both matches will be new territory for the Australian, having not played against either player before. Mia is ranked 12 to Wendy's 77. Meanwhile, Linda sits slightly in front of Wendy at World number 54.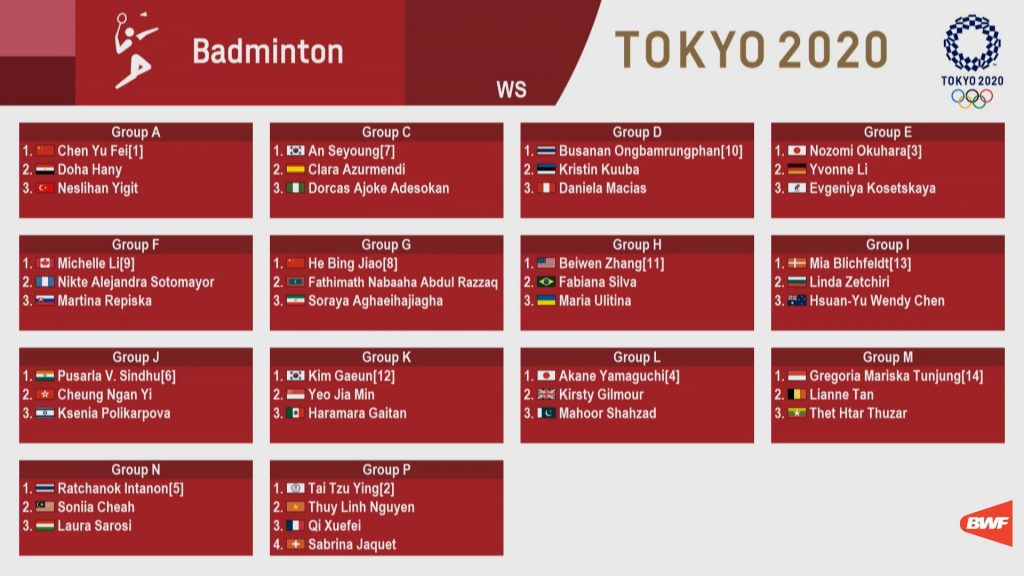 Get the latest news and developments from Badminton Oceania delivered straight to your inbox by subscribing to our eNewsletter: