Eight junior players from the Cook Islands will be travelling to Auckland this week to take part in a 10-day badminton bonanza.
Throughout the week, the youngsters will be competing in the North Island Bay of Plenty U15/U19 Open from 23-25 April and Waikato U17 Open on 1 and 2 May 2021.
In between the two tournaments, the youngsters will take part in a four-day training programme which is led by the Badminton Oceania's Coaching and Development Manager, Robbie Thackham. All of the youngsters (listed below) are part of tier three in the player development programme which aims to prepare junior players from selected Pacific Island countries for a higher level of competition and structured training environment – beyond what is currently available in country.
The trip is also symbolic of the fantastic benefits and opportunities available through Shuttle Time, which was the route into badminton for most of the players. Having first picked up a racket in Cook Islands Shuttle Time sessions, some of the players have advanced their skills and reaped the rewards, going on to represent their country internationally at the VICTOR Oceania Championships, AIMS Games and continuing inclusion in Badminton Oceania's Player Development programme.
Cook Island Representatives: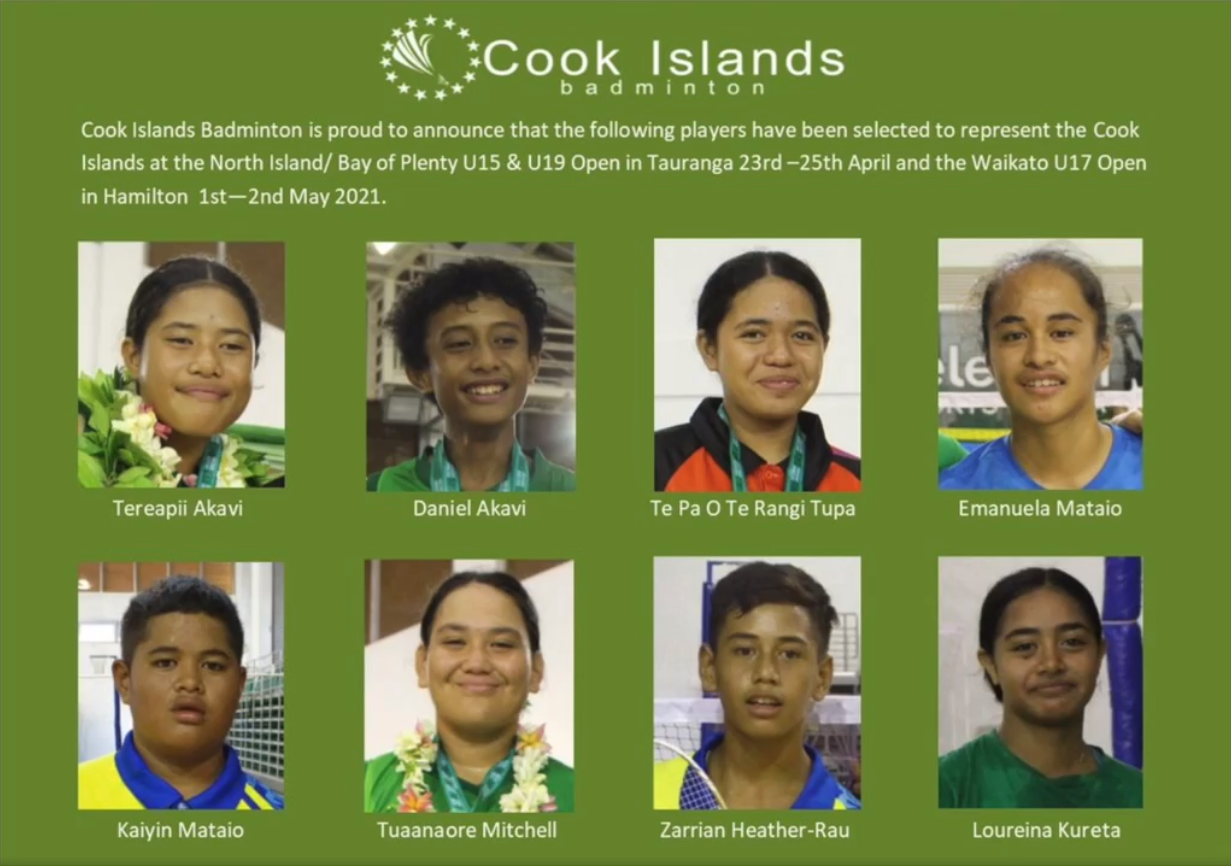 Badminton Cook Islands have enjoyed tremendous growth over the last two years, remarkably overcoming the barriers which surfaced from the COVID-19 pandemic and associated lockdowns. They have become one of the most popular sports in country and a seen a huge increase in demand which has ultimately led to the inception of a ladies only group, an elite 10-week challenge series, a social 10-week challenge series and more.
Regularly working behind the scenes to make it happen in the Cooks, Badminton Cook Islands President, Thomas Mereana-Ngauru, and Hebrew Tom (Board member) will join the youngsters on their 10-day trip to enhance their own experience and knowledge too.
Not only is Thomas continuing his development as a BWF level one qualified coach, but the pair will be learning more about professional event implementation to improve the services available in country, including using Tournament Software – the online software utilised by the BWF to implement international tournaments – to run their internal tournaments, including their National Championships.
This also compliments the likes of Badminton Oceania's new event – Oceania Masters In Paradise – which was scheduled to take place in Rarotonga in June 2020, but was postponed due to the global pandemic. The aim is to reprise the innovate event in 2022 as ambitions for a travel bubble across the continent (and hopefully beyond) continue to build momentum.
"Our junior players are ecstatic to travel abroad to compete in tournaments again. In the Cook Islands, we have made significant progress over the last few years and COVID-19 brought us all to a sudden halt. However, we were able to make a quick comeback in-country and this trip is a promising sign of progress and a return to international badminton – particularly for the young players who have high hopes in badminton", says Thomas Mereana-Ngauru
"The global pandemic played a significant role in the revamp of our player development programme and strategy. I'm looking forward to delivering face-to-face again with some of our tier three participants and continuing the progress of our Pacific-based players, taking them through various technical and tactical routines", says Robbie Thackham
Get the latest news and developments from Badminton Oceania delivered straight to your inbox by subscribing to our eNewsletter: