Pictured: U17 Men's Doubles winners Jin Chung and Chen Yang with Sandra Low (right) Photo credit: Guam National Badminton Federation 
From 11-13 February 2022, teams from Guam and Northern Marianas (Team NMI) reunited for the first time since before the global pandemic began, to compete in the 2022 Guam Badminton Invitational Tournament.
The invitational event was beneficial to both teams' who seldom have the opportunity to compete with players outside of their countries, and frequently rely on the likes of YouTube tutorials to teach them the more advanced techniques and tactics of badminton.
Additionally, the weekend provided the perfect opportunity to gain match experience and prepare for the upcoming Northern Marianas 2022 Pacific Mini Games, scheduled to take place from 17-25 June 2022.
The tournament was also a great opportunity for the recently opened Guam Badminton Sports Centre to test event hosting capabilities. The badminton-specific venue opened in early February and will be significant to the growth of badminton in Guam who will benefit from more court space to deliver events, player development camps and Shuttle Time sessions.
In the invitational tournament, Northern Marianas' Guerrero and Janelle Pangilinan stood out over the weekend and snatched gold in the mixed doubles category, defeating Guam's CJ Estipona and Elaine Labang (pcitured below). The pair have been a strong favourite for the title after dominating nearly every tournament back home since they played together in the Samoa 2019 Pacific Games.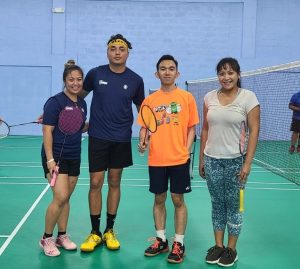 "The tournament was perfect to gauge my progress as a player. Team NMI is highly competitive, To win in 3 events, therefore is a positive sign and a signal to train harder", says CJ Estipona.

"The tournament was a great experience and a competitive one too. It's a terrific method for us to gain experience competing against another country. With new members of our national team, it's also an opportunity for them to get a taste of what to expect at the upcoming PMG. After this tournament, it will help us as a team on identifying skills that we need to improve, and identifying our strengths. Coming back home with 3 gold medals feels great, but despite the fact of winning, I will still be pushing myself harder in my training till the main event has come", says Janelle
All results from the Invitational tournament are available below: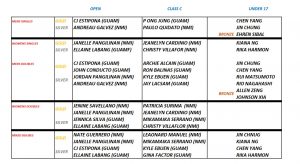 President of Guam National Badminton Federation President, Sandra Low, also utilised the opportunity to host an exhibition match for the two teams, replicating a mixed team event atmosphere in their new venue as they prepare for the 2022 Pacific Mini Games.
"Everyone is really happy with this tournament. It is as if we have all come out of hibernation and ready to flex our long dormant badminton reflexes!"

"The tournament was designed to help both Team Guam and Team NMI to better prepare for the upcoming Mini Games. We have not had the benefit of competing outside our islands so this was sorely needed to measure our strengths and weaknesses", says Sandra.
You can follow the players' and teams' updates by following the Northern Marianas Badminton Association and Guam National Badminton Federation Facebook pages.
Get the latest news and developments from Badminton Oceania delivered straight to your inbox by subscribing to our eNewsletter:
Written by Alex Deng, Badminton Oceania