Pictured: Merlie Tolentino (centred) – Northern Marianas
The Badminton World Federation's Humans of Shuttle Time series presents the perspectives of those who work on badminton development at the grassroots level. Merlie Tolentino, Shuttle Time National Coordinator for Northern Marianas Badminton Association, recounts how badminton has impacted her life on and off the court.
Growing-Up Years
I grew up in the Philippines and migrated to Northern Marianas 18 years ago for work. I wasn't a sporty or athletic type as I'd grown up in a family that only allowed male siblings to play sports.
I first saw badminton in the Philippines when I was 10 or 12. It struck me that it was fun and easy to play, and could be played indoors or outdoors.
Getting Involved
Five years after I arrived in Northern Mariana Islands, I became interested in playing badminton as I saw a lot of Asians playing the sport. Then I became not just a player but took on the role of Secretary General of the Northern Marianas Badminton in 2008.
I was Secretary General for a long time until four years ago when I took over as President. I am also the president of one of six badminton clubs – The Taga Badminton Club.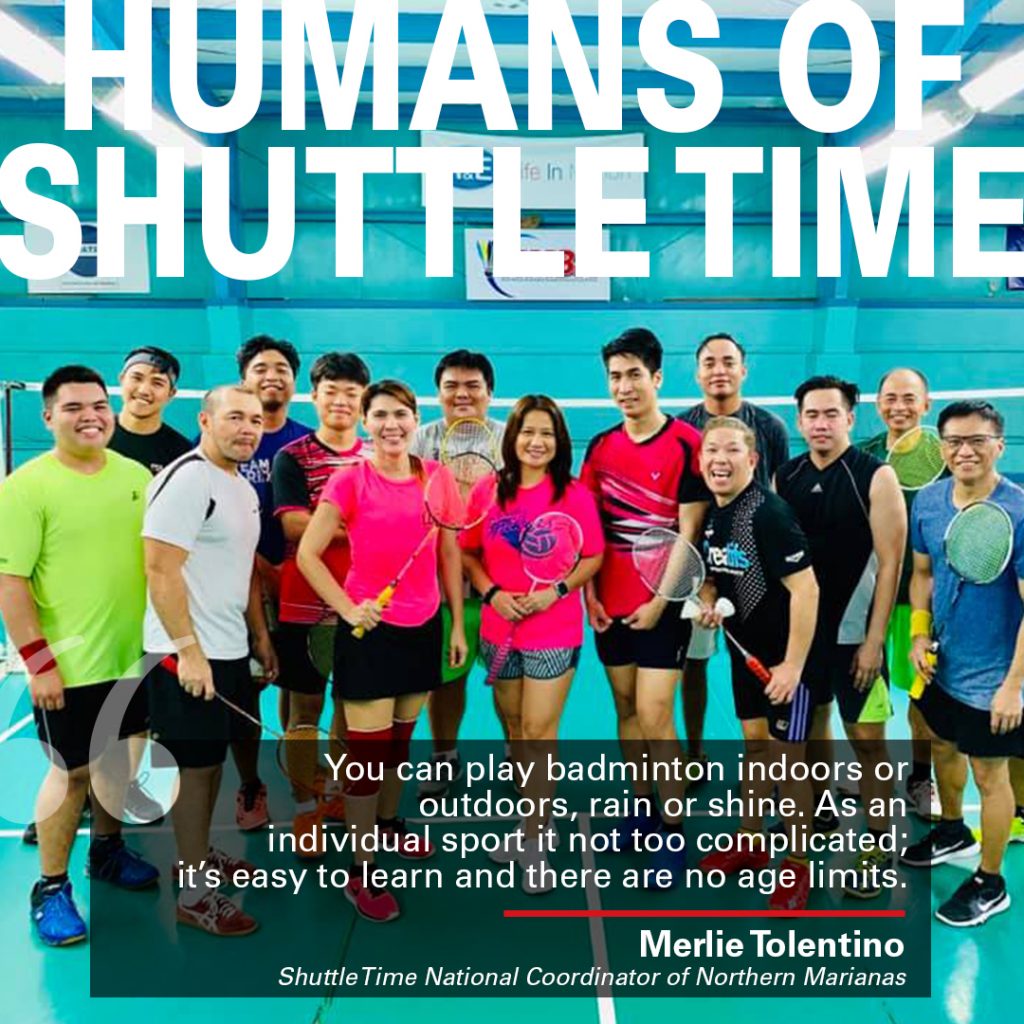 Memorable Moments in My Career
That was when I attended the BWF AGM in Wuhan. I met people from several countries and that was because I play badminton, I volunteer and I contribute to my community by providing an active and healthy lifestyle through sports.
Growth of Badminton
Badminton in NMI was established in 2006 so when I joined in 2008 badminton was only for recreational games or exercise. When Jerry Tan (former NMBA President) and I joined the organisation, we became members of Badminton Oceania. We introduced a club system, conducted summer camps, and started friendly games against Guam and Philippines.
Impact of Shuttle Time
We just started Shuttle Time. We have organised and conducted less than ten Shuttle Time programmes but our plan is to do more with the help of our Public School Sports Coordination.
What Badminton Means to Me
Health – playing badminton is healthy; health is wealth.
Service to Community – not everyone is willing to spend time to run an organisation for free. Badminton is my way of giving back to the community by volunteering my time to run and manage the sport.
It's an uncomplicated sport without age limits, is easy to learn, and can be played anywhere.
The lesson I have learnt is that one has to give 200 per cent commitment to succeed. Don't get frustrated easily. Accept that the community is very small and that we have to compete among many sports that are also played here.
Get the latest news and developments from Badminton Oceania delivered straight to your inbox by subscribing to our eNewsletter: