The Victorian Disability Sport and Recreation Awards (VDSR Awards) are a celebration of the achievements of sportspeople with disability, the coaches, organisations, officials and volunteers who support them, and the inclusive sport and recreation sector across Victoria. Hosted by Disability Sport & Recreation, the VDSR Awards are an opportunity to discover notable champions and rising stars. It celebrates what's truly great about accessible and inclusive sport.
Last month, the VDSR Awards announced their nominations across 10 different award classifications including Sportsperson of the Year, Administrator of the Year and Lifetime Achievement Award, Volunteer of the Year and more.
Badminton Oceania's Development and Coaching Officer, Ian Bridge, who is also the national Para badminton coach for Australia, made the final three shortlist for the Carbine Club Coach of the Year Award, accompanied in the shortlist by Vicky Lee (from Slammin' Tennis) and Kerry Woods (Special Olympics Gymnastics).
Since he started his role with Badminton Oceania in 2018, Ian has been pivotal in the development of Para badminton across the region which has seen greater communications, development camps and development of tournaments for the region's players. More recently, he also played an integral role in the addition of a wheelchair division at next year's Oceania Masters in Paradise tournament.
Additionally, as the national Para badminton coach, Ian accompanied Australia's Paralympic debutants (Caitlin Dransfield and Grant Manzoney) on their quest to Tokyo in September 2021.
Badminton Oceania is delighted to learn that Ian has won the Carbine Club Coach of the Year Award at last night's presentation in Melbourne.
Ironically, he was not able to attend the award ceremony to collect his award in person as he is attending a BWF Level 2 Disability Badminton Coach Tutor course in Dubai.
Nonetheless, we extend our congratulations to Ian and look forward to seeing the ongoing growth of Para badminton in Oceania.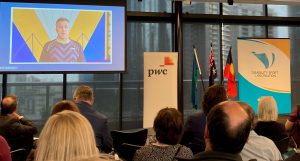 Get the latest news and developments from Badminton Oceania delivered straight to your inbox by subscribing to our eNewsletter: