Last week, fifteen youngsters from Tonga, Samoa, Fiji and the Cook Islands travelled to Auckland to take part in the Pacific Development Squad training camp.
While the aspiring players were taking part in various on and off court sessions, six team managers and coaches accompanied the teenagers and took part in the BWF Level 1 Coaching course alongside the camp.
Tonga's MaryJane (MJ) Esei Sifa was amongst the six coaches and she is on a mission to become Tonga's first female BWF Level one qualified coach.
"It would be a great feeling to make history as the first BWF Level one female coach in Tonga. I would use the qualification to promote badminton all over the country, especially to female players and coaches"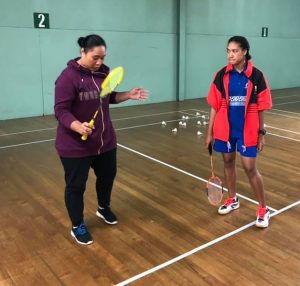 As part of the coach's development, MJ took part in a workshop with our Coaching and Development Manager, Robbie Thackham. Later in the week, MJ joined the other coaches in leading sessions for the teenagers attending the Pacific Development Squad training camp.
The coaching course helps to upskill the coaches across the Pacific, where BWF Shuttle Time activity is constantly growing, but in-depth knowledge of the game is scarce.
These qualifications would be particularly useful in the Pacific as they could progress on their learnings from the BWF Shuttle Time sessions with more advanced techniques, tactics, drills and routines.
"The BWF Level one helps me to better understand the principles and content of badminton so I can teach and deliver at a higher standard. I hope to share this knowledge with other aspiring coaches too who may work towards their own BWF level one qualification in the future", says MJ.
Themes that emerged from the level one coaching course included a coaches roles and responsibilities and session planning, which has already inspired MJ to understand her own coaching philosophy:
"My philosophy is commitment and discipline. Behaviours and attitudes are hard to change, but players with heart, commitment and discipline are devoted, willing to sacrifice and punctual. Those players know to 'suffer now and enjoy later'"
All of the coaches, including MaryJane, will return to their home countries where they will deliver coaching sessions in order to gain more experience. They will then re-group in October for another coaching weekend where they will also undergo assessment to pass the BWF Level 1 coaching qualification.
Find out more about the coach education pathway here.