MEN'S SINGLES
Chi Yu Jen (TPE)[7] vs Liu Wei Chi (TPE)[8]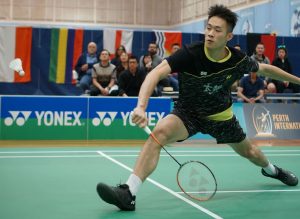 21-16 21-18
Without dropping a game and barely letting his opponents getting past double figures until the Semi-Finals, Chi Yu Jen ended his victorious week with a spectacular performance against his higher ranked compatriot. His opponent, Liu Wei Chi entered today's fresh off the victory against the first seed in yesterday's thrilling Semi-Final, but was unable to repeat his success this afternoon.
"To start with I was quite nervous. It took me a while to relax. I came all this way to Australia for the first time so I though I might as well as enjoy myself and just play as I normally do " – Chi Yu Jen
WOMEN'S SINGLES
Liang Ting Yu (TPE)[1] vs Lin Jhih Yun (TPE)
21-15 17-21 21-14
In just one-minute shy of an hour, both ladies put on a stunning display with powerful jump smashes, attacking clears and spectacular net play. After dropping the second game, Liang returned with a different plan to take the momentum back and win the title. Despite Lin's outstanding defence, Liang's persistent attack was the deciding factor.
"There was definitely a huge pressure on me, especially when the whole group of Taiwan players that came to Perth are all young and upcoming"
"I have to make sure that I'm all ready to play the games as ready as possible and to show case my talent and effort on the court" – Liang Ting Yu
MEN'S DOUBLES
Shia Chun Kang/Tan Boon Heong (MAS)[2] vs Chia Hao Lee/Liu Wei Chi (TPE)
21-17 21-16
Only four rallies into the match and the audience was assured of some world-class entertainment. The world record holder for the fastest smash (Tan Boon Heong) is joined by three other big-hitters, with reflexes to match, but the Chinese Taipei showed no nerves against the Commonwealth Game Gold Medallist and multiple title holder (Tan) to take a quick lead. However, the reign did not last long as Shia and Tan showed their class to secure their first title together since forming as a Men's Doubles pair earlier this year.
"In the beginning, it was quite hard as they are singles players so their playing style was quite different, so we tried to change our tactics so we managed to win the match " – Tan Boon Heong
WOMEN'S DOUBLES
Cheng Yu Chieh/Tseng Yu-Chi (TPE) vs Chung Kan-Yu/Ye Jing Ya (TPE)
21-11 16-21 21-19
Cheng and Teng enjoyed a comfortable ride into today's Final, without dropping a single game in the opening rounds. However, the ladies had to put their foot on the pedal against Chung and Ye, who had to endure a more challenging route, including victories over the second and fourth seeds. At one game all, the title remained in the grasp of both pairs, but as Cheng said after winning the final, tenacity and accuracy would prevail.
"It really came down to who made the most mistakes, but we persevered and pushed through and we got to win, so we're quite happy" – Cheng Yu Chieh
MIXED DOUBLES
Chi Yu Jen/Lin Xiao Min (TPE)[1] vs Kok Xian Tan/Kha Yan Wong (MAS)[2]
21-16 17-21 21-17
With almost 90 minutes 'on-court time' on finals day, Chi Yu Jen scooped up a second title in the Mixed Doubles. Alongside his partner and Mixed Doubles specialist, Lin Xiao Min, the Chinese Taipei duo lived up to their status in the only final to include the top two seeds.
"We've had a pretty good run and we've never played against them. Especially after the second game, we just had to make sure we kept our focus which I think we did well." – Chi Yu Jen