Kok Xian Tan and Kha Yan Wong, Malaysia. Photo credit: @jbmedia_perth
Men's Singles
The eighth seed from Chinese Taipei brought his A-game to the court this afternoon against his higher ranked compatriot (131 to his 331), as he stunned the first seed in two thrilling games. Meanwhile, Chinese Chi Yu Jen kept a tight grasp on his lead throughout the game, booking his spot against Chi in tomorrow's final.
Liu Wei Chi (TPE)[8] vs Chia Hao Lee (TPE)[1]                     21-17 23-21
Chi Yu Jen (TPE)[7] vs Buwaneka Goonethilleka (SRI)        21-14 21-16
Women's Singles
Chinese Taipei ensured a whitewash of both Singles disciplines as all four Semi-finalists compete under the same flag. Lin Jhih Yun was the first to upstage her fellow compatriot, followed by tournament favourite, Liang Ting Yu.
Lin Jhih Yun (TPE) vs Hung En-Tzu (TPE)[5]            21-18 21-11
Liang Ting Yu (TPE)[1] vs Yang Yu-Chi (TPE)           21-12 21-9
Men's Doubles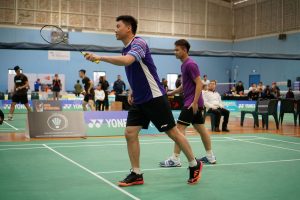 Malaysian second seeds, Tan Boon Heong and Shia Chun Kang, needed little introduction to the court, delighting the local crowd who came to see their 15 and 17-year old opponents from Australia embrace the opportunity of playing against badminton royalty. The youngsters fought valiantly, but walked off court with a valuable lesson after Tan and Shia secured their victory in 25 minutes.
Chia Hao Lee/Liu Wei Chi (TPE) vs Sachin Dias/Buwaneka Goonethilleka (SRI)[1]  21-13 21-15
Shia Chun Kang/Tan Boon Heong (MAS)[2] vs Julian Mao Lun Lee/Hongyuan Wong (AUS)                       21-7 21-13
Women's Doubles
Chung and Ye provided another shock exit tonight as they ousted their second seeded compatriots over three exciting games. Meanwhile, Cheng and Tseng were eager to secure their win as they powered through their second game to book a spot in their first final of the year.
Chung Kan-Yu/Ye Jing Ya (TPE) vs Hsiesh Pei Shan/Lin Xiao Min (TPE)[2] 11-21 21-17 21-17
Cheng Yu Chieh/Tseng Yu-Chi (TPE) vs Lin Jhih Yun/Lin Sih Yun (TPE)              21-19 21-8
Mixed Doubles
Both games went the distance, as the first and second seeds saw off their opponents to make Mixed Doubles the only discipline to satisfy the seeding report.
At only 17 (Chen Zhi Ray) and 15 (Huang Yu-Hsun) years-old, the Chinese Taipei duo looked in control after a formidable second game. However, they couldn't capitalise on their momentum to overthrow the second seeds at the last hurdle.
Chi Yu Jen/Lin Xiao Min (TPE)[1] vs Ming Kang Tan/Wen Xin Tang (MAS)   11-21 21-16 21-14
Kok Xian Tan/Kha Yan Wong (MAS)[2] vs Chen Zhi Ray/Huang Yu-Hsun (TPE)         21-18 17-21 21-17
Check out all results from today's Quarter and Semi-Finals on Tournament Software.
The Finals will take place from 1pm (local time GMT+8) on Sunday 8 September.
Watch the action live from court one for free on OVO.
For the live-streaming of the finals, we will be joined by two special guests who will be commentating:
Kay Terry was a former state and international player, who represented Australia at three Commonwealth Games and was awarded an MBE for her services to sport.
Trevor Briedis is another former state player, who is celebrating over 20 years life membership to Badminton Western Australia.