Australia's Simon Leung will be travelling to Tokyo next week to compete in the Mixed Doubles draw at the Tokyo 2020 Olympic Games.
Alongside his partner, Gronya Somerville, Simon is the two-time reigning Continental Champion in the mixed doubles. Their 2020 title came within the timeframe of their Olympic qualification campaign, backed by other results such as quarterfinalists at the YONEX-SUNRISE Nepal International Challenge and South Australia International 2019.
Talking of his upcoming experience at his first ever Olympic Games, Simon took part in our Q+A:
Describe your emotions and thoughts the moment you found out you were 100% going to the Olympics games.
We found out who was officially selected on Monday 28 June. I saw my name on all the social media posts and emails about who was selected by the Australian Olympic Committee to go to Tokyo. I was actually very happy at that time and just smiled. I'm pretty sure my family saw it before I even saw it and it was already in the family WhatsApp group being talked about. It was very touching to see the support, the love from family and friends.
The Olympics have been a dream of mine since being a kid and now getting the chance to go to Olympics, in japan, is unreal. It hasn't hit me just yet but I'm sure the day we get to the airport waiting for that chartered flight, it will hit me big time.
Referring to the journey in the pre-COVID era, was the 'Road to Tokyo' everything that you imagined (mentally and physically). Or was it harder than you thought?
The 'Road to Tokyo' was a journey that I will never forget. Going into it, I was expecting to be tested mentally and physically and I can confirm it did exactly that. If anything, it was a bit harder than I expected. Having to plan all trainings, travels for up to 20 tournaments in a year (flights, accommodation, tournament planning, food and etc) all by myself was not an easy thing; especially when you're going through the challenge of having to perform well in every match – it was just additional stress. If any one part was to fail, it was going to be hell. At the end of the day, it was such a great experience to do something like this. Not everyone gets the chance to do it.
Obviously COVID had a huge impact on the 'Road To Tokyo'. How did the pandemic directly impact you directly? Was it more of a hinderance or were you able to benefit from it somehow?
Unfortunately, COVID hit me pretty hard. When Australia first went into lockdown, I had some time off (about three months). Initially, I took a break from badminton, since the past 18 months were so hectic. However, the persistency of the pandemic got worse, as did my levels of motivation. Originally, I had plans to take time off after the Olympics (due to all of the time spent on badminton since a young age, and just wanting to take time off and maybe move on).
Yet, as the pandemic continued, I eventually went back into training, but soon picked up an injury within three months. It forced me to take some time out to recover before worsening it. This once again didn't help with the lack of motivation to continue training and pursuing at a high level. However, towards the end of the year, after chats with coaches and partners, I decided to get it together and finish off the Olympic campaign and give it my all. Whatever happens, and what happens post-Olympic games, is a future problem to deal with.
What are your expectations for your upcoming debut at the Tokyo Olympic Games?
Everyone's goal is to not just do well, but to win a medal at the Olympic Games. That's the same for me. However, I plan to go into the Olympic Games playing my best, and to just leave it all out there on court every match. The Olympic games is another level on top of your HSBC BWF Super 500, 750, 1000s. It will be a whole new level of matches. So I'll try going out there with no pressure and just play my best, hopefully be on the winning side and do Australia proud.
What are you most looking forward to at the Tokyo 2020 Games?
Just being in the athlete's village as an athlete. But also, soaking in and being part of an Olympic atmosphere. 
What activities do you do to cope and relieve your stress and anxiety before a match?
I tend to listen to music a lot, and just be in my own space/bubble. I'm on my phone scrolling through Facebook, talking to people, watching YouTube. Some people say stay away from phones before a match so you can focus, but for me, I've always like to be in my own bubble and do things that make me relax and doing that is what I seen as relaxing. 
Who are you most looking forward to either watching and/or playing across any discipline?
I'm looking forward to watching Kevin Sanjaya from Indonesia play in the men's doubles as he is just one of the best double's players in the world now. His skills are so slick and its ridiculous to watch. Another to watch I think is Lee Zi Jia from Malaysia, he has shown he is capable of winning big tournaments such as the All England this year.
For myself, I think that I am looking forward to playing against Yuta Watanabe and Arisa Higashino from Japan. Their speed on court is just super-fast, but they're also super skillful. I was supposed to play them in Korea two years ago, however, they withdrew from the tournament. 
TOKYO 2020 OLYMPIC DRAW
In Tokyo, Simon Leung and Gronya Somerville will compete against some fresh faces in Group C, having never played any of the pairs in their careers so far.
The fourth seed powerhouse of Praveen Jordan and Melati Daeva Oktavianti (Indonesia) sit at the top of their group, alongside Japan's Yuta Watanabe and Arisa Higashino and Denmark's Mathias Christiansen and Alexandra Boje.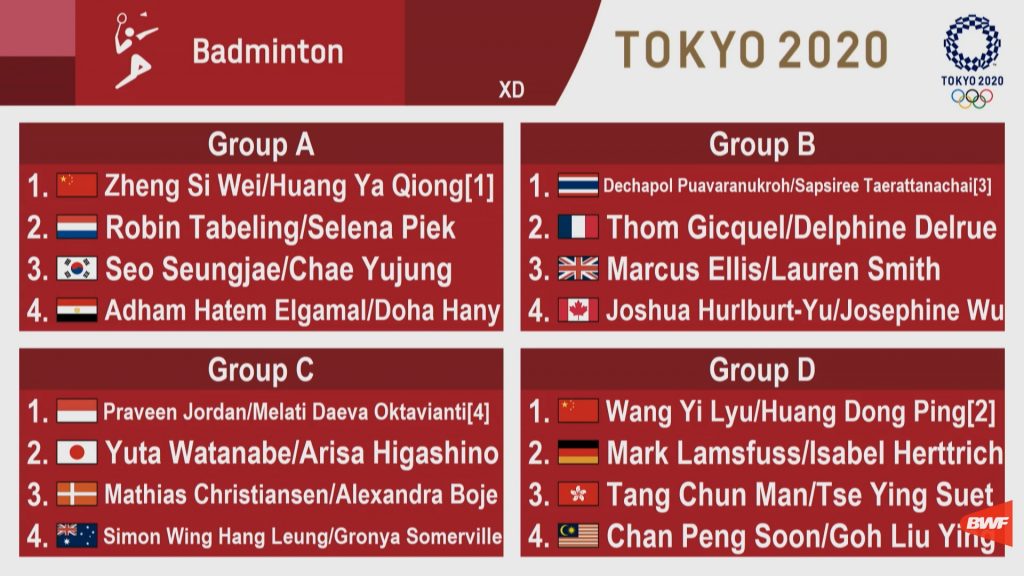 Get the latest news and developments from Badminton Oceania delivered straight to your inbox by subscribing to our eNewsletter: