Pictured: The Sudirman Cup. Photo Credit: Badminton Photo
Last night, the BWF conducted the live draw for the upcoming TotalEnergies BWF Sudirman Cup 2021, which is being held in Vantaa (Finland), the first time the country is hosting a major BWF event.
Originally, Australia qualified from Oceania for the Sudirman Cup Finals. The VICTOR Oceania Mixed Team Championships 2021 would have originally been the qualification event – however this was cancelled due to the COVID-19 pandemic. Instead, the total accumulated world ranking points of players from Oceania's team members were counted to form a ranking list, meaning Australia sat on top. However, due to the significant travel costs and quarantine restrictions currently in place in their country, Badminton Australia decided to withdraw. In second place, New Zealand were offered the spot but declined for similar reasons.  Following the process of inviting Oceania's next ranked teams, Tahiti welcomed the invite.
In last night's draw, it was confirmed that Tahiti will be taking on the challenge of Chinese Taipei, Korea and Germany in Group B.
Chinese Taipei will be fresh from a hugely successful Olympic campaign, following Lee Yang and Wang Chi-Lin's exceptional performance in the men's doubles – and the women's singles legend, Tai Tzu-Ying. Meanwhile, Korea are four-time winners of the Sudirman Cup and are the second most successful team at the World Mixed Team Championships.
Meanwhile, top seeds and defending champions China have been drawn alongside Thailand, Finland and India. Following their strong showing at the Tokyo 2020 Olympic Games, the Chinese team will have the opportunity to consolidate their gains as they seek their 12th title. They are already the most successful team in Sudirman Cup history.
The top two teams from each group progress to the knockout round (quarterfinals). The quarterfinals draw will be held immediately after the last group match.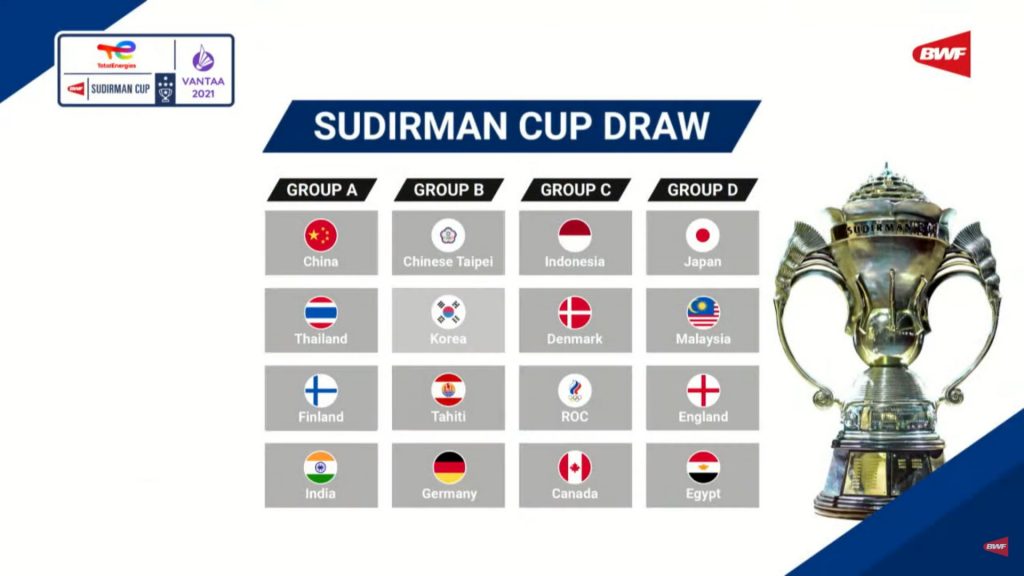 Get the latest news and developments from Badminton Oceania delivered straight to your inbox by subscribing to our eNewsletter: