While the Northern Marianas Pacific Mini Games 2022 is officially underway, the badminton programme does not begin until Monday 20 June, starting with the Mixed Team event (20-22 June).
Team Tahiti are seeking vengeance after their last Pacific Games campaign ended with a bronze medal. Despite defeating Fiji in their round-robin tie, a narrow 3-2 loss to New Caledonia in the finishing stages resulted in an unexpected three-way tie and an electrifying finish as the countback saw Fiji emerge as eventual winners and New Caledonia in second.
Rٞémi has been a significant figure among the Tahitian (and the wider Pacific) badminton scene for many years. Having played in competitive French leagues, trained with the French national team and competing in more international tournaments than his counterparts, he has previously made headlines with his men's singles silver medal at the VICTOR Oceania Championships 2019 and  when winning Tahiti's first ever match at the TotalEnergies BWF Thomas Cup Finals 2021.
He hopes that his experience can help lead the team to the top of the podium by Wednesday:
"I see myself as a leader within the team. I think everybody in the team has a role and I can see myself a key motivating figure, but I know that everybody's input counts towards the team's cohesion. We know that we can win gold it, but it will be hard. We have to make sure there is a good atmosphere among the group and everybody will support one another", says Rémi.
As soon as the Mixed Team event finishes, the individual events begin (23-25 June). Rémi swept the board in Samoa, claiming all three possible gold medals. Earlier this year, he competed in the Continental Championships in preparation for the Games, but was not able to find the result he was looking for – bowing out in the round of 16.
Nonetheless, he is adamant that the learnings will help him to prevail in Northern Marianas:
"The two things I learned from the Oceania Championships were to improve fitness and maintain greater focus. Treat every match the same and don't give any chances to my opponent. I was really happy to win the three medals in Samoa. I knew that it was possible, but I was afraid to lose some matches. My coach Leo helped me and I ended up feeling really confident and happy. I have to be completely focused in every match.", says Rémi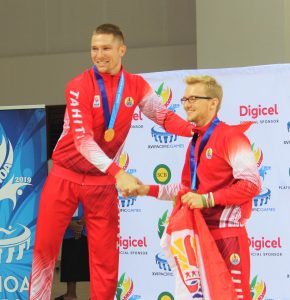 In the men's singles, he receives a bye into the second round where he will compete against the winner of the Julien Dauptain (Wallis and Futuna) and Chen Hu (Guam) contest. Meanwhile, he will join forces with Leo Cucuel in the men's doubles and Mélissa Mi You in the mixed doubles to defend his titles.
Rémi admits being more motivated now than ever before. Having spent the most part of the last three years in France, he is delighted to represent red and white once again and has a big year ahead, including a three-month training stint at the European Centre of Excellence and competing in BWF tournaments.
"It is always a great pleasure and honour to represent Tahiti. They give me a lot and I love my country, so I'm happy to represent Tahiti again"
"It was a big year for me leading up to the pacific games. I'm feeling really motivated at the moment because I have never been 100% focussed on badminton in the past, but now I am and I am aiming for a World Top 50 ranking. I will train really hard to pursue my dream", says Rémi
Stay up to date with the latest results on Tournament Software (mixed team and individual), and follow Badminton Oceania's Facebook page for the latest photos, videos and content.
All matches on courts one and two throughout the Games are available to watch for free on the official YouTube Channel.