Every year on 5th October, World Teacher's Day is celebrated across the world to highlight the unique role that adults play in children's lives.
For Badminton Oceania, there are over 2500 Shuttle Time teachers and plenty more coaches who bring badminton into the lives of thousands more across the continent. Whether it is for grass roots or performance, Badminton Oceania would like to thank all the teachers who bring the sport to life.
To celebrate the occasion, we reflect on five of our most-read stories from badminton-related teachers in Oceania over the last two years: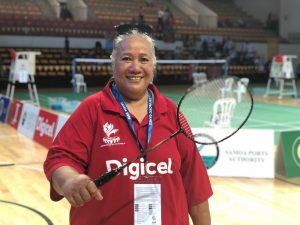 Youth Pastor, Televine Masefau, of Samoa's L.M.S. Pasefika Church used badminton to restore faith in her community's next generation.
For many of the children in Televine's community, anti-social behaviour, drugs and alcohol were their main source of entertainment while a lack of formal education limits their ability to learn. Thankfully, the resources provided by BWF Shuttle Time helps Televine to promote health and wellbeing, helping children as young as five years old to find a new lease of life in the weekly sessions. After discovering badminton through her church, three of the participants were invited to attend a one-week training camp in China with Team Samoa who were preparing for the Samoa 2019 Pacific Games. Meanwhile, the other church-goers signed up to volunteer at the Games.
Read the full story here.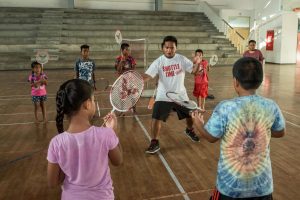 Tongoboo first discovered Shuttle Time in 2012 at the Kiribati Institute of Technology. He enjoyed participating so much that he eventually enrolled in a Shuttle Time teachers' course, which was conducted by Badminton Oceania's Kumon Tarawa.
Since then, Tongoboo has played a pivotal role in becoming the country's Shuttle Time Co-ordinator, continuing to deliver sessions for aspiring children, while encouraging more adults to undertake the training and deliver in more communities. He is now determined to become the first BWF level 1 coach in Kiribati with the hope of coaching aspiring players to follow in the footsteps of Teitiria Utimawa and Tinabora Takeiaki who launched onto Oceania's badminton scene at the Samoa 2019 Pacific Games.
"My best experiences are always while working with children. Sometimes at the end of the session I realise that I have worked with 30 or more kids, and it feels great when they say they picked up the lesson.", says Beero.
Read the full story here.
Roseanne Ulunga – Solomon Islands
With only three male players from Solomon Islands competing at the Samoa 2019 Pacific Games, Badminton Oceania utilised the BWF Gender Equity programme to support women in the Solomon Islands to get into badminton. Shuttle Time tutor and Engineer from New Zealand, Roseanne Ulunga, was contracted on behalf of Badminton Oceania to tackle the issue. Roseanne travelled to the Solomon Islands to deliver a two-day BWF Shuttle Time workshop, in the hope of inspiring more children, particularly females, to play badminton.
Along with over 50% of the workshop attendees being women who aim to inspire younger girls to pick up a racket, Roseanne's time in the Solomon Islands was also spent with members of the Women In Sport Commission, who are constantly trying to find solutions to the gender gap in sport, with some promising prospects for the country.
Read the full story here.
In June 2019, Ateca Mataitoga was approached to become a Shuttle Time teacher and badminton player after showing enthusiasm at a Paralympic Showcase in Nadi which coincided with the Oceania National Olympic Committee AGM.
With previous involvement in rugby as a short stature player, Ateca added badminton to her resume and participated in the BWF Shuttle Time teacher training to learn more about the sport. Badminton frequently joins forces with Rugby Union in Fiji, to benefit both parties. Their combined reach brings in more participants who are eager to get involved with sports and helps potential talent and leaders stand out.
"I had a great time training the kids…I get to join them being active and they ask to play again, so I know they are having fun", says Ateca.
Read the full story here.
Ian Bridge and Brian Karo – Badminton Oceania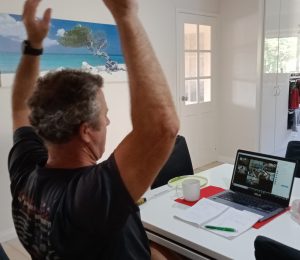 One of the most important qualities for a teacher is the ability to adapt lessons for the students. That was one lesson which the entire world took on in 2020 as the COVID-19 pandemic took over.
Refusing to let go of the momentum for Para badminton players in the region, Ian Bridge and Brian Karo (based in Australia and Papua New Guinea respectively) took to the online conference calling platform, Zoom, to lead weekly training sessions. Seven Para badminton players from New South Wales, Victoria and Western Australia extended their isolation bubble joined in to maintain the community spirit which thrives on Oceania's Para badminton scene.
"We live far away from each other in different states, so it makes such a difference to connect in these ways. I definitely feel more motivated to keep training from home", says Ali Qambar – Australian Para badminton player.
Read the full story here.
Get the latest news and developments from Badminton Oceania delivered straight to your inbox by subscribing to our eNewsletter: