Over 100 BWF Member Associations have received their first sums of money under the BWF Membership Grants Programme activated in 2020.
The process to release the funds to Member Associations was completed this week. Around US$500,000 has been distributed so far, out of a long-term project investment pool planned for the next four years.
The BWF Membership Grant Programme provides opportunities for Member Associations to access tailored support, to assist them in developing badminton in their country.
14 out of 16 Member Associations in Oceania are receiving grants in one of the largest region wide development initiatives to be implemented, including: Cook Islands, Fiji, Guam, Kiribati, New Caledonia, New Zealand, Norfolk Island, Northern Marianas, Papua New Guinea, Samoa, Solomon Islands, Tahiti, Tonga and Tuvalu.
Many of our members have already initiated programmes which benefited from the grant. Fiji, Guam, Northern Marianas planned to start up badminton clinics and school programmes, starting last month to reintroduce people to the sport after their lockdown periods.
Moreover, the Cook Islands took Shuttle Time around the island to nine targeted primary schools, reaching over 800 children, before culminating with their annual primary school tournament.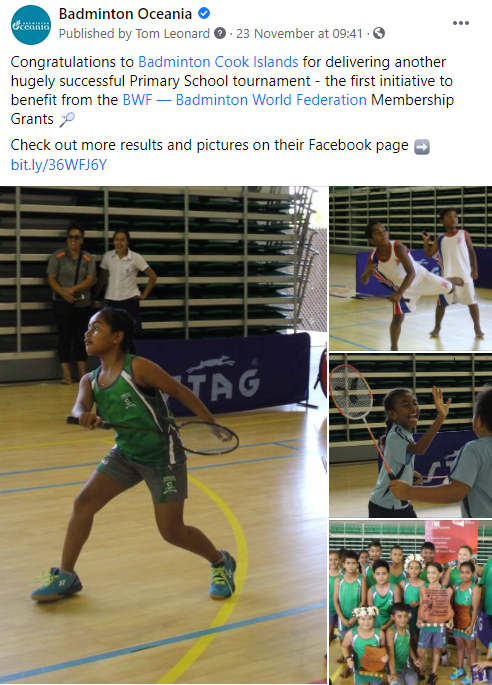 Due to the COVID-19 pandemic, and current restrictions on international travel and activities, the BWF took the decision to adjust the Membership Grants Programme for the year 2020, in order to meet the current needs of Member Associations, particularly those impacted by the COVID-19 pandemic.
Therefore, the funds released are tied to a 'Back to Badminton' theme, aimed at stimulating a return of badminton activities in the current environment.
BWF President Poul-Erik Høyer said: "Given the uncertain nature of the COVID-19 pandemic, it is vital that we reach out and support our Member Associations.
"The BWF Membership Grants Programme provides us with a necessary platform to achieve this in 2020.
"Long-term, we see the Grants Programme facilitating continued and consistent assistance for Members in helping them deliver key badminton activities in their countries."
Get the latest news and developments from Badminton Oceania delivered straight to your inbox by subscribing to our eNewsletter: